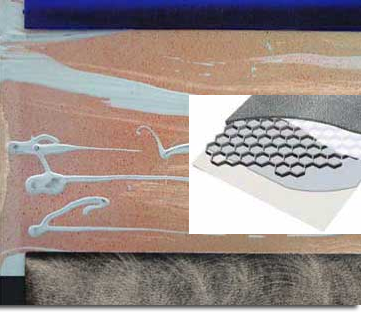 MATERIALS
I have always been attracted to hard surfaces as supports for my work. I chose wood panels to paint on rather then canvas as a base for many years.
I was invited to the Tamarind Institute in New Mexico as a guest artist. While there, I was very drawn to the aluminum plates we used for lithography – when inked and ready to print they had an extraordinary look and feel.
The tough sheen of those plates – the way the ink lay on the surface – the possibilities of quiet shimmer grabbed me. It seemed to dovetail with qualities I have always been interested in. I liked the coolness of aluminum coupled with the warmth of handling. I liked the ability to sand and dig into metal as well as build up – I liked the translucent areas where metal shows through against opaque areas.
Once I got home and back to the studio I began to paint on thin aluminum sheets – painting, sanding, scratching through the paint with tools. I responded differently to the hard metal surface and I liked the results. I came upon panels of honeycomb aluminum and have worked on them exclusively for a number of years. Honeycomb aluminum consists of two flat sheets of aluminum with a honeycomb aluminum structure in between – it makes for a very flat lightweight panel. They are easily hung with a good French cleat system. Honeycomb panels are used in aircraft – as skins for skyscrapers – as the walls in "clean rooms" where computer chips are made – many industrial purposes.